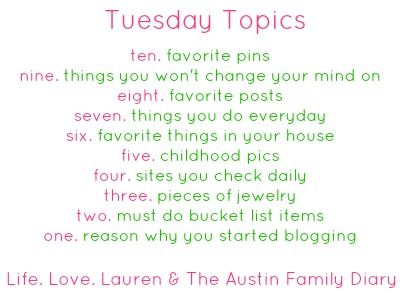 I have professed my love of Pinterest a number of times...

It definitely comes in first for my favorite site. Second would be google reader. That has seriously changed the way I read blogs. I used to bookmark every blog I followed and have to check all of them everyday to see if something new was posted. Oh how naive I was. I went totally off track there for a second.
Moving on. Today is the start of a new Tuesday Topics.
Ten Pins
This was really hard by the way...
Sweet and Sour Chicken
This is probably the best recipe I've gotten off of Pinterest.
I do half the vinegar in case you try it out.
Violet Hunters
I want these soooo bad and would've never wanted them had I not run across them on Pinterest...
I have a recipe handwritten by grandmother that I really want to do this too...
These things are fantastic. No joke go make them right now. But since they're mini you'll convince yourself it's okay to eat like 10 at a time... not that I did that.
Until Pinterest I thought I was the only one who did this...
I leave out the watercress and it's really good. Tastes just like regular egg salad...but better.
This glider will be apart of my future (in like 6 years) nursery...
I think I'm going to send one of my friends these for her 25th birthday... It's so pretty but I can imagine it makes a huge mess...
I really need to own this color
I will be using this as soon as the fabric I just ordered comes in...super excited!
Okay that was pretty hard to sort through over 1,000 pins... I might have a problem.